MIX CDS
By 2000, it was long overdue for me to begin producing mix CDs rather than mixtapes. This presented a unique challenge to me as I was conditioned to the demands of the cassette - 45 minutes of music on two distinct sides, independent but interrelated.
The CD, on the other hand, was the length of an average DJ set requiring a continuous flow of music for up to 80 minutes. Therefore, I had to reinvent my creative process, my sense of timing, and feel for the energetic arc of the musical journey. Since these mixes were all recorded at home (and almost entirely without edits), the CD format demanded more precision and patience. One unacceptable mix sixty or seventy minutes in and I had to start all over!
Initially, I ordered conventional, professional-grade CDs. Over time, this proved to be both expensive and wasteful. With the creative design skills of dela at my disposal, she and I experimented with alternatives to the plastic CD case. Together we produced CDs with a handcrafted, linoleum print design, others with an origami-style cardstock case, and most recently, we have used Re-Sleeve cases.
In keeping with my love for music, all CDs are professionally mastered and duplicated to ensure the richest listening experience possible.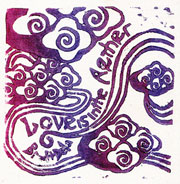 Love Is In the Aether (June 2006)
My second collaboration with dela. At this point, I was ready to move beyond conventional, plastic-intensive CD cases. Thus began our initial foray into alternative CD packaging. Love Is In The Aether was encased in a paper gatefold CD envelope with a homemade, linoleum print cover. Musically, this is a return to my lifelong love for classic electro-breaks; dela provides newer sounds with glitchy, dreamy downtempo. Original linoleum carving by Steven Jimenez. Printed by dela and me.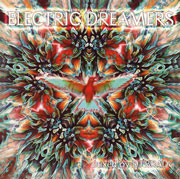 Electric Dreamers (June 2004)
Commissioned by my friend and fellow spiritual traveller, Devotee Joseph, Electric Dreamers taps into the visionary energy that infuses tribal dance culture. Words of wisdom from Joseph's
spiritual teacher
are briefly interwoven into the mix. Profits from the sale of this CD supported her non-profit: The
Servants of Charity
Food Relief International. The project is a clear manifestation of Joseph's devotion and dedication to service. Musically, Electric Dreamers combines tribal progressive, tech-house, and dubby techno. Artwork by Madeleine Delage and dela.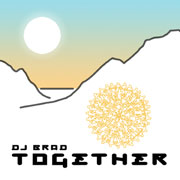 Together (December 2002)
A mostly faithful reproduction of my live sunrise set at the September 2002 Full Moon Gathering. This mix is a gift to dela, who had one of those transcendant dancefloor experiences we all cherish. Classic sounding trance moves into tribal rhythms and ultimately yields to deep, lush tech-house. Artwork by dela.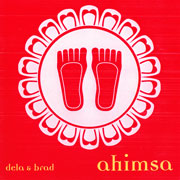 Ahimsa (December 2002)
My first collaboration with
dela
, Ahimsa was conceived and mixed after September 11, 2001 as a call to non-violent action. During this period, I was avidly practicing
Iyengar yoga
and reading yoga philosophy. So, the words penned by master Yogi
B.K.S. Iyengar
in his seminal work, Light on Yoga, regarding Ahimsa (non-harming) were an inspiration (see CD insert). Ahimsa, with it's deep, beautiful blend of ambient, dub, and downtempo has become one of our most beloved mixes. The first six tracks were selected and mixed by dela while Brad contributed the remainder. Artwork by dela.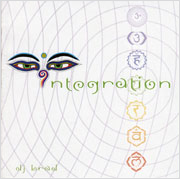 Integration (May 2002)
Features recordings of both a singing bowl played by
RaRa Avis
as well as excerpts from a discourse by my esteemed yoga teacher
Paul Cabanis
. As such, this is my sole mix that "integrates" non-electronic elements. Integration stems from my deep fascination with yoga philosophy and its concepts of mind, consciousness, cosmic energy, and their potential for unification in Samadhi. This mix features tracks from one of my favorite labels at the time:
Choke Music
. Integration weaves together a rich tapestry of techno and tech-house. Artwork by dela.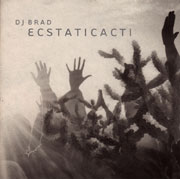 Ecstaticacti (January 2001)
This mix is a celebration of my love for the deserts of the Southwest. It is also a token of my inspiration derived from reading
Edward Abbey's
Desert Solitaire
. Throughout this period and still to this day, dela and I spend much of our free time hiking and camping in the almost uninterrupted open spaces found from
Death Valley National Park
in California to
Canyonlands National Park
in Utah. Here we lose ourselves in the beauty and solitude of the majestic desert. Ecstaticacti merges intense, sparse tribal techno with uplifting trance. Artwork by dela.